LATLATAAIF
Har mazhab mein ibadat ke liye ghusal ya wudu ka ihtimaam kya jata hai halaank ibadat ka talluq zehan se hai sirf jism se nahi hai. Ghusal aur wudu ka Mansha tabiyat ko shagufata kar ke inhimak peda karna hai.

Hamein sochna chahiye ke......

Hamaray ashgaal o aamaal jo jismani aaza ke zariye sadir hotay hain... Kahan takhleeq paate hain ?... Aur... Un ki takhleeq kis terhan hoti hai ?

Sufia hazraat batatay hain ke :

Kisi shye ki maahiyat ki taraf rujoo kya jaye to hum kitni hi anwaa o makhloqaat ko pehchan satke hain. Sher, shaheen, chaand aur Sooraj , zameen o aasman, jin o ans, sun-hwa, pani, farishtay, pahar, samandar aur hashrat al arz yeh sab makhlooq hain. Un ka muzahira aik hi tarz par hota hai. Jaisay sher aik shakal o soorat aur aik khaas tabiyat rakhta hai, is ki aawaz bhi makhsoos hai. Yeh cheeze is ki poori noo par mushtamil hain. Bilkul isi terhan ensaan bhi khaas shakal o soorat, khaas adaten aur khaas salahiyaten rakhta hai. Lekin yeh dono apni maaheeton mein aik dosray se bilkul judda hain. Albata dono mein yaksaa takazay paye jatay hain. Yeh ishtiraaq noo ki mahiat mein nahi balkay maahiyat ki' ' asal' ' mein hai.

Is qanoon se hamein rooh ke do hisson ki maloomat haasil hoti hain. Aik har noo ki judaghana mahiat dosray tamam anwaa ki wahid maahiyat. Yahi wahid maahiyat rooh Azam aur shakhs akbar hai. Aur har noo ki judaghana maahiyat shakhs asghar hai aur isi shakhs asghar ke Mazahir fard kehlate hain maslan tamam insaan shakhs asghar ki hudood mein aik hi maahiyat hain.

Aik sher dosray sher ko ba-hasiat sher ke shakhs asghar ki salahiyat se shanakht karta hai magar yahi sher kisi aadmi ko ya darya ke pani ko ya apne rehne ki zameen ko ya sardi garmi ko shakhs akbar ki salahiyat se shanakht karta hai. Asghar maahiyat ki salahiyat aik sher ko dosray sher ke qareeb le aati hai. Lekin sher ko jab pyaas lagti hai aur woh pani ki taraf mael hota hai to is ki tabiyat mein yeh tehreek akbar maahiyat ki taraf se hoti hai aur woh sirf akbar maahiyat ki badolat yani shakhs akbar ki wajah se yeh baat samjhta hai ke pani peenay se pyaas rafa ho jati hai.

Chunancha Zee rooh ya ghair Zee rooh har fard ke andar akbar salahiyat hi ijtimai zindagi ki feham rakhti hai. Aik bakri Sooraj ki hararat ko is liye mehsoos karti hai ke woh aur Sooraj shakhs akbar ki hudood mein aik dosray se ilhaaq rakhtay hain. Agar koi ensaan shakhs akbar ki hudood mein feham o firasat nah rakhta ho to woh kisi doosri noo ke afraad ko nahi pehchan sakta nah is ka masraf jaan sakta hai. Jab aadmi ki aankhh sitaron ko aik martaba dekh layte hai to is ka Hafza sitaron ki noo ko hamesha hamesha ke liye apne andar mehfooz kar laita hai. Hafza ko yeh salahiyat shakhs akbar se haasil hoti hai lekin jab koi ensaan apni noo ke ensaan ko daikhta hai to is ki taraf aik kashish mehsoos karta hai. Yeh kashish shakhs asghar ka khaasa hai. Yahan se asghar maahiyat aur akbar maahiyat ki takhsees ho jati hai. Akbar maahiyat kashish baeed ka naam hai aur asghar maahiyat kashish qareeb ka naam hai.

Rohani duniya mein ghair iraadi harkat ka naam kashish aur iraadi harkat ka naam amal hai. Ghair iraadi tamam harkaat shakhs akbar ke iraday se waqay hoti hai. Lekin fard ki tamam harkaat fard ke apne iraday se amal mein aati hain.

Neher Tasweed , neher tajdeed aur neher tasheed ki hudood mein jab koi Kharique aadat paish aati hai to karamat kehlati hai. Jab neher tazheer ki hudood mein koi Kharique aadat paish aati hai to istiraaj kehlati hai.

Quran pak mein Allah taala ney farmaya hai. Allah samawaat aur arz ki roshni hai. Is ki tashreeh yeh hai ke tamam mojoodaat aik hi asal se takhleeq hui hain, khuwa woh mojoodaat bulandi ki hon ya pasti ki hon.
Misaal :

Sheeshay ka aik glob hai. Is glob ke andar dosra glob hai. Is dosray glob ke andar aik teesra glob hai. Is teesray glob mein harkat ka muzahira hota hai aur yeh harkat shakal o soorat, jism o madiyat ke zariye zahuur mein aati hai. Pehla glob tasawuf ki zabaan mein neher Tasweed ya tajallii kehlata hai. Yeh tajallii mojoodaat ke har zarra se lamha bah lamha guzarti rehti hai taa ke is ki asal sairaab hoti rahay.

Dosra glob neher tajreed ya noor kehlata hai yeh bhi tajallii ki terhan lamha bah lamha kaayenaat ke har zarra se gujarta rehta hai. Teesra glob neher tasheed ya roshni hai, is ka kirdaar zindagi ko barqarar rakhta hai. Choutha glob nasmah ka hai jo gasson ka majmoa hai is hi nasmah ke hajhoom se maadi shakal o soorat aur muzaahiraat bantay hain. Is ko neher tazheer kehte hain.

Jis kkhuda naay duniya aur is ki sab cheezon ko peda kya woh aasmaanon aur zameen ka maalik ho kar haath ke banaye hue mandaroon mein nahi rehta.

( injeel. Aamaal, baab number 17 24 ayat )

Is aayat mein neher Tasweed aur neher tajreed ka bayan hai. Awwal Allah taala ki qowat khaaliqaiyat poori kaayenaat ke zarra zarra par muheet hai. Is hi qowat ke tasallut ko tasawuf mein neher tajreed ya noor kehte hain ( duniya aur is ki sab cheezon ko peda kya... Neher Tasweed , aasmaanon aur zameen ka maalik ho kar... Neher tajreed ) nah kisi cheez ka mohtaaj ho kar admion ke hathon se khidmat laita hai kyunkay woh to khud hi sab ko zindagi, saans aur sab kuch deta hai.

( injeel. Aamaal, baab number 17. Aayat number 25 )

( Zindagi... Neher tasheed, sab kuch... Neher tazheer ya nasmah )

Neher tasheed ya roshni jisay injeel ki zabaan mein zindagi kaha gaya hai is ki ataa ka silsila azal se abadd taq jari hai.

Tazheer ki ro jis ka dosra naam nasmah hai kaayenaat ke maadi ajsaam ko mehfooz aur mutharrak rakhti hain.

Har takhleeq noor aur roshni se zindah hai. Noor aur roshni zakheera honay ke liye. Har makhlooq mein aisay roshan nuqtay ya marakaz hain. Jo noor aur roshni ka zakheera karte hain. Tasawuf mein un roshan nuqton ko lataaif kaha jata hai.

Jism mein tawanai ke marakaz har jagah mojood nahi hain lekin tawanai sir se paiir taq daur karti rehti hai aur jism se kharij hoti rehti hai. Jis terhan kisi khehkashaani nizaam mein setaaray roshni kharij karte hain isi terhan insani jism se bhi roshni kharij hoti rehti hai.

Zahiri jism ki terhan ensaan ke oopar roshiniyon ka bana huaaik jism hai aur is jism ko jism misali kaha jata hai. Jism misali un bunyadi lehron ya bunyadi shu-aon ka naam hai jo ibtida karti hain. Jism misali ( roshiniyon ka bana huajism ) maadi wujood ke sath taqreeban chipka huahai lekin jism misali ki roshiniyon ka inikaas gosht post ke jism par no inch taq phela huahai.

Ensaan ke andar chay lataaif kaam karte hain :

1. Lateetfa akhfa

2. Lateefa khfi

3. Lateefa sri

4. Lateefa wahi

5. Lateefa qalbi

6. Lateefa nafsi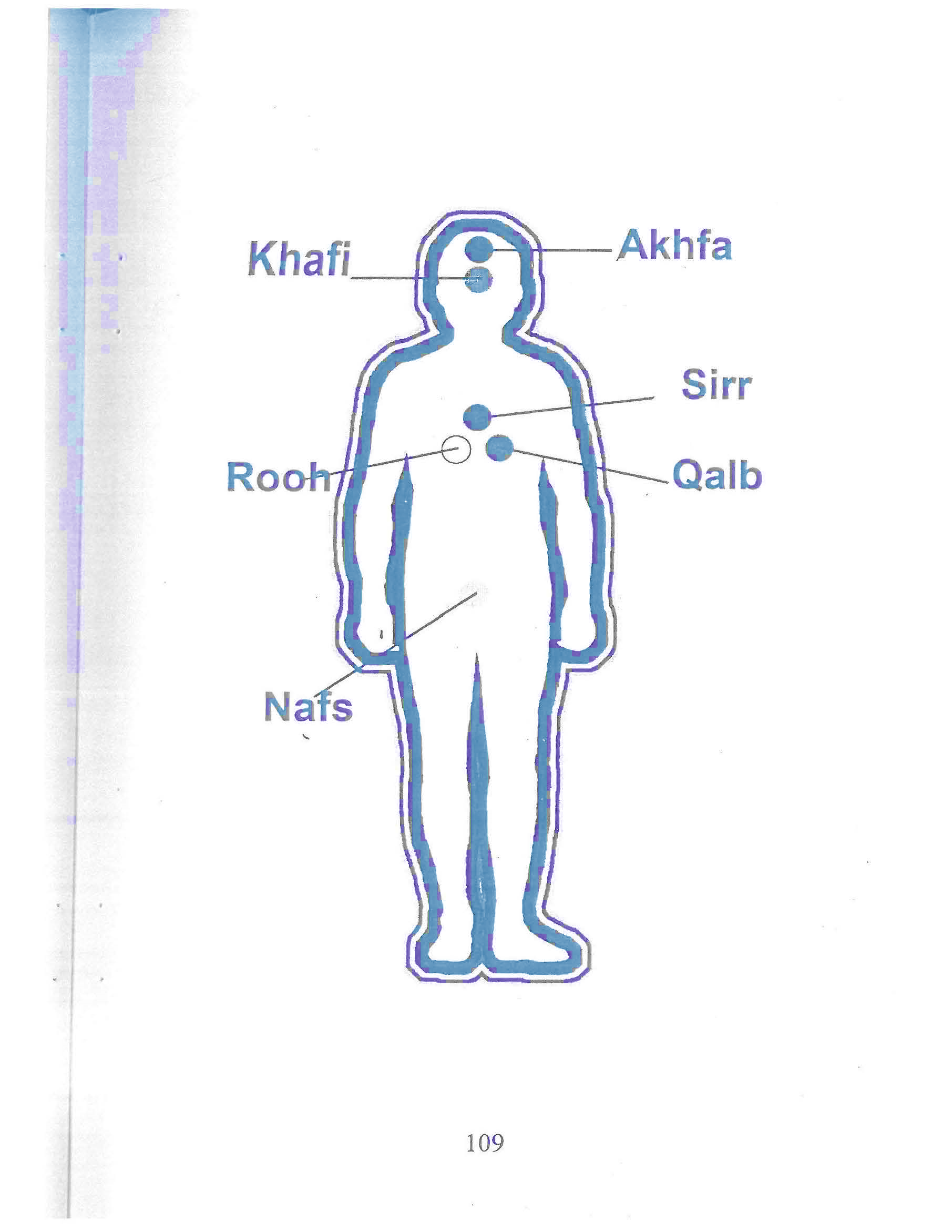 Har makhlooq mein takhleeqi umoor ke aitbaar se allag allag lataaif hain.

Jaanat ke andar paanch (5) ltife kaam karte hain.

Malaika ke andar chaar (4 ) ltife kaam karte hain.

Ajraam samawi ke andar teen (3 ) ltife kaam karte hain.

Hewanat ke andar do (2 ) ltife kaam karte hain.

Jamadat o nabataat ke andar aik (1 ) lateefa kaam karta hai.

Aadmi ke andar (6 ) ltife kaam karte hain.

Farishtay : chaar lataaif ki makhlooq hain.

1. Rooh 2. Sir 3. Qalb 4. Nafsi

Jaanat : paanch lataaif ki makhlooq hain :

1. Rooh 2. Sir 3. Qalb 4. Khfi 5. Nafsi

Insaan : chay lataaif ki makhlooq hai :

1. Rooh 2. Sir 3. Qalb 4. Akhfa 5. Khfi ?. Nafsi

Ajraam samawi : teen lataaif ki makhlooq hain :

Nafs 2. Qalb 3. Shar

Hewanat : do lataaif ki makhlooq hain :

1.rooh 2. Nafsi

Jamadat o nabataat : aik lateefa ki makhlooq hain :

1. Nafsi

Chay lataaif ko chaar nehrein sairaab karti hain :

1) neher Tasweed 2 ) neher tajreed

3) neher tash'heed 4 neher tazheer

1. Neher Tasweed ka nuzool lateefa akhfa mein hota hai.

2. Neher tajreed ka nuzool lateefa sri mein hota hai.

3. Neher tash'heed ka nuzool lateefa qalbi mein hota hai.

4. Neher tazheer ka nuzool lateefa nafsi mein hota hai